The difference between a quality blade and a blade of poor quality can also mean the difference between having a fire and sleeping cold, eating food and going hungry, building a shelter and being in the elements, and it could even mean the difference between life and death.
Whether you are wanting a knife for your survival kit, hiking pack, camping gear, or to simply have around, you will want to pick a knife that will survive the elements and the tasks that you have planned for it. In this review we will be going over the Kabar Big Brother to see if it will live up to the expectations that you have for your next knife. Kabar knives manufacture the highest-quality knives. Does this one live up to expectations?
In the following sections you will find the knife's features, some pros and cons of the knife, a set of common questions we get, and what customers have said about the KaBar Big Brother. Let's get to the review.
Reviewed and written by Elijah Langford, an outdoor enthusiast
---
KaBar Big Brother Review
Size:
The KaBar Big Brother has a blade length of 9 5/16 inches and an overall length of 14 1/8 inches.
Steel:
The blade of the KaBar Big Brother is made of 1095 Cro-Van steel.
Handle:
The handle of the KaBar Big Brother is made of the durable Black Kraton G polymer.
Sheath:
The sheath included with the KaBar Big Brother is made of thick black leather and is constructed for durability.
Blade:
The blade is made with a flat grind and has a serrated section on the back of the blade. It is coated with a powdered epoxy and colored black. The blade is fixed.
Weight:
The KaBar Big Brother weighs 14.4 ounces.
---
Pros and Cons of the Kabar Big Brother
Pros:
Made of extremely durable 1095 Cro-Van steel
Has powder coating for added durability
Serrations on back of blade for sawing
Blade is made using 'flat-grind' technique (not hollow-grinding)
Blade is non-reflective
Handle is made with Kraton G polymer
Made with a long blade
Water and corrosion proof
Leather sheath is included
Handle made with a 'no-slip' grip
 KaBar offers limited lifetime guarantee
Strong enough to baton wood
Full-Tang construction
Cons:
Sheath is fairly thin when compared to the weight and size of the knife.
Does not come with a lanyard strap
Too large for legal carry in some jurisdictions
Last update on 2020-05-17 at 17:48 / Affiliate links / Images from Amazon Product Advertising API
---
What are People Saying About the KaBar Big Brother?
From what I could find floating around out there, there has been very little negative feedback about the KaBar Big Brother. This thing is a beast. The overall size and weight of the KaBar Big Brother are the first things to notice about this knife. It is reported over and over that this knife is heavy in the hand and big enough to handle the bigger tasks expected of a knife.
The next thing that people note is how sharp it is 'fresh out of the box'. As I stated in the previous section, some others have also noted that laws regarding knives and blades should be researched if you plan to buy the KaBar Big Brother. This is not a small knife.
The serrations on this knife are said to work very well for sawing cordage and other materials. It is also reported that the coating used for the blade of this knife is very effective and does not wear or chip too easily.
Overall, this knife is said to be well made, to sit comfortably in the hand, and to accomplish more than what is required of it. People are not disappointed with this Kabar knife.
---
Open Questions About the Kabar Big Brother
Q: What is 1095 Cro-Van steel?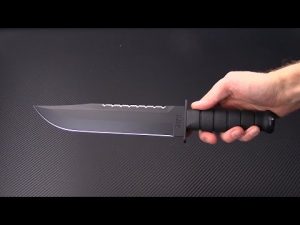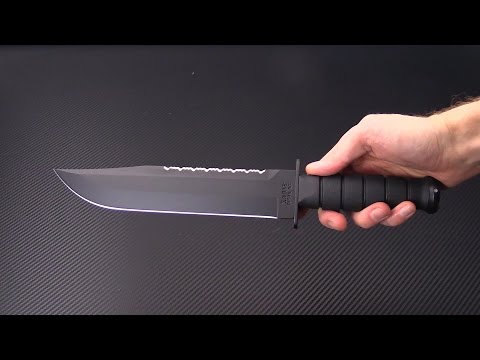 A: 1095 Cro-Van steel is a high-carbon steel that has a hardness rating between 1095 and 01. It is made to be similar to 1095 steel but has Chromium, Vanadium, and Molybdenum. The added materials give it a higher carbon content. 1095 Cr0-Van steel is very durable and hard.
Q: What is Kraton G?
A: Kraton G is the polymer used to make the handle of the KaBar Big Brother. Kraton G polymers are designed to be compatible with a large number of polyolefins and mineral oils. Kraton G is also made to be resistant to UV. Basically, Kraton G is made to resist water, sweat, other chemicals, light, and heavy wear.
Q: What does it mean to 'baton' wood?
A: Batoning is a technique used to cut or chop wood. The blade of the knife is placed on the wood that is to be cut while another piece of wood or other object is used to strike the spine of the knife. This drives the knife into the wood with the goal being to split or cut it.
Q: Does this knife has a full tang?
A: Yes. The steel that makes up the blade runs the length of the handle as well. The tang is more narrow under the handle, however, making it a 'stick-tang' or 'rat tail-tang'.
---
Verdict
The KaBar Big Brother is a great survival knife. The durability is undeniable, as is the quality. This knife can serve in several ways. Some use it as a multi-function survival knife, while others have bought it to serve as a combat knife. The low reflectivity is a plus. The best part about this knife is that there is not really anything, in my opinion, that it cannot be used for. The size and weight of the KaBar Big Brother make it a 'confidence-booster' while carrying.
This knife is also difficult to damage, which is a huge benefit in the world of survival gear. Overall, the Kabar Big Brother comes highly recommended, and for good reason. This knife is strong, large, and up for the task of aiding you on your journey outdoors, whatever that might be.
Last update on 2020-05-17 at 17:48 / Affiliate links / Images from Amazon Product Advertising API
Source link