There are few survival tools that are as indispensable as a good bushcraft knife. The ability to cut materials and process animals is rendered virtually impossible when a cutting tool is removed from the equation.
There seems to be a knife for every situation but for the true do it all cutting tool a bushcraft knife is just the ticket. The knife is the cornerstone of bushcrafter's kit which is why making the right choice is critical when selecting the best bushcraft knife for your needs.
I will cover all you need to know about these types of knives, some product reviews, and what I look for in an ideal bushcrafting knife. Before that, here are my top contenders:
Last update on 2020-05-22 at 01:18 / Affiliate links / Images from Amazon Product Advertising API
Written by Michael Major, veteran of Canadian Armed Forces
Best Bushcraft Knife – My Top 5 Picks
Let's get to it!
When you think Ka-Bar you get visions of the classic USMC fighting knife, but their line up of blades stretches far beyond just military applications. The Becker BK2 Campanion is easily the stoutest knife on this list with a full quarter inch thick blade that will withstand what ever you can throw at it.
At 5.25 inches long the blade length is in that happy medium between too small and too large and the 1095 high carbon steel is classic bushcraft with a 90 degree spine that will throw sparks off a ferro rod easily. For such a great well made knife the plastic MOLLE sheath is just ok, it will do the job, but leaves a lot to be desired. Overall though this was an easy pick for the number one spot.
Make sure to read the more detailed Kabar BK2 review.
Specifications
Overall Length – 10.5 inches
Blade Length – 5.25 inches
Blade Thickness – 0.25 inches
Blade Steel – 1095 High Carbon Steel
Handle Material – Ultramid
Sheath – MOLLE Compatible Hard Plastic
Pros
Blade is thick
90 degree spine for striking ferro rods
Blade length is just right for most bushcraft tasks
1095 high carbon steel
Full tang
Cons
Heavy
Sheath could be a lot better
What the Customers Say
Customer sentiment is generally positive with the only complains being some quality control issues, the overall weight of the knife, and of course the sheath.
Last update on 2020-05-21 at 20:28 / Affiliate links / Images from Amazon Product Advertising API
This knife is a very close runner up for best overall bushcraft knife. The CPM-S30V stainless steel may be resistant to rusting and hold an edge but it will not throw sparks like 1095 will. With a decently sized 4.4" blade this knife is on the smaller end of the spectrum but is more than adequate for the bulk of bushcraft jobs that you will throw at it. The leather sheath is simple and functional but lacks any versatility especially in carry options.
A point of note is that this knife is easily the most expensive on our list but with that price tag you do get the craftsmanship of a Benchmade knife. One bonus Benchmade offers is free sharpening for life so if you do not like sharpening or get freaked out by the CPM-S30V then you have the option to let Benchmade do it for you. Overall this is a quality knife it is just not as robust as our best overall pick.
A colleague, Doc Montana, did a hands-on review of the Benchmade Bushcrafter that you should check out.
Specifications
Overall Length – 9.15"
Blade Length – 4.4"
Blade Thickness – 0.162"
Blade Steel – CPM-S30V
Handle Material – G10
Sheath – Leather
Pros
Blade is resistant to corrosion
Good blade length and thickness
Benchmade has free sharpening for life
Full tang
Cons
Expensive
Sheath lacks versatility
Stainless steel blade will not throw sparks with flint
What the Customers Say
Customer complaints are minimal and revolve around minor quality control issues and the knife's leather sheath.
Last update on 2020-05-21 at 23:18 / Affiliate links / Images from Amazon Product Advertising API
Morakniv knives are well made and are more often than not found in most bushcraft kits. The Mora Bushcraft is not just a knife but a complete kit that comes with a ferro rod and a sharpener which is why I have categorized it as a bushcraft knife kit. This particular model comes with a 90 degree spine for striking the Ferro rod and the blade is made from 1095 high carbon steel which will also allow you to use a flint to strike sparks off of it. The 1/8" thick 4.3" blade has a Scandinavian grind but is not a full tang knife. Best suited for the lighter end of the bushcrafting tasks even though this blade is designed with bushcraft in mind I would not baton or chop with this knife. Overall though, there is not much negative to say about this knife.
Specifications
Overall Length – 9.1"
Blade Length – 4.3"
Blade Thickness – 1/8"
Blade Steel – 1095 High Carbon Steel
Handle Material – Plastic
Sheath – Plastic with Ferro Rod and Sharpener
Pros
Includes ferro rod and sharpener
Blade length is a good length for most lighter bushcraft tasks
90 degree spine
1095 high carbon steel
Cons
Not full tang
Blade is too thin for heavy use
What the Customers Say
The vast majority of customers love their Mora's with the only negative reviews being a result of minor quality control issues or what could be chalked up to user errors.
Last update on 2020-05-21 at 23:18 / Affiliate links / Images from Amazon Product Advertising API
Schrade has a large line up of knives but the SCHF36 fits the bushcraft bill quite nicely. These knives are inexpensive as they are made in China and use materials like polyester for the sheaths instead of plastic or leather. That being said for the low cost, getting a quarter inch thick blade with included ferro rod and sharpener, is not a bad deal especially if you are just getting into bushcraft and are looking for a good starter knife. I classify this knife as a bushcraft knife kit because of the included sharpener and ferro rod but it has to be demoted to runner up simply because its not quite as high quality as a Mora.
Check out the detailed review of the Schrade SCHF36.
Specifications
Overall Length – 10.4"
Blade Length – 5"
Blade Thickness – 1/4"
Blade Steel – 1095 high carbon steel
Handle Material – TPE
Sheath – Polyester
Pros
Good blade length for bushcraft
Comes with ferro rod and sharpener
Blade is thick enough for heavy use
Full tang
Cons
Polyester sheath lacks the sturdiness of plastic or leather
Mass produced in China
What the Customers Say
Customer reviews are generally positive with most complaints centring around quality control issues or the fact the knife is manufactured in China.
Last update on 2020-05-21 at 18:48 / Affiliate links / Images from Amazon Product Advertising API
The Mora Companion is an incredibly popular bushcraft knife in the bushcraft/survival community. The Companion HD comes with a 1/8" thick, 4.1" long 1095 carbon steel in a Scandinavian grind. The Companion is a 3/4 tang knife and is certainly not designed with chopping or batoning in mind. The plastic sheath is simple but versatile, it has been designed to be easily taken on and off a belt as well as being attached to a button or hung around the neck. I personally own one of these knives and can say it is a great entry level bushcraft blade or a good choice for anyone on a budget. These knives are very inexpensive but do not lack in quality.
I personally did a hands-on review of this knife here.
Specifications
Overall Length – 8.75"
Blade Length – 4"
Blade Thickness – 1/8"
Blade Steel – 1095 high carbon steel
Handle Material – TPE
Sheath – Plastic
Pros
Inexpensive
1095 steel
Great sheath
Good size for a wide variety of bushcraft tasks
Cons
3/4 Tang
Not suited for chopping or batoning
What the Customers Say
An overwhelming majority of customers are very happy with their purchase of the Mora Companion. The only negative feedback seems to be around minor quality control issues or with the blade rusting which is probably more to do with user error.
Last update on 2020-05-22 at 01:18 / Affiliate links / Images from Amazon Product Advertising API
---
Bushcraft Knife Recommendation Guide
With so many options available picking the right one for you comes down to examining several factors before deciding which blade checks enough of the boxes that you are confident in your purchase.
Tang
When we talk about the tang of a knife we are referring to the section of the blade steel that is inside the handle of the knife. This tang may run all the way through the handle in which case we refer to it as a full tang knife, or it may run part of the way through the handle usually about 3/4's of the way, in which case we would call that a 3/4 tang knife. The tang may also taper down to a narrower profile which is often referred to as a rat-tail tang.
Bushcraft tasks often include heavy processing of materials using techniques like batoning. Heavy impacts on the spine of the blade puts a great deal of stress on the transition point between the blade and the tang. To ensure that your knife is going to stand up to the punishment that bushcrafting can deliver a full tang knife is the way to go.
Blade Steel
This topic is the subject of many heated debates in the bushcraft and survival community, and that debate is not going to end anytime soon. Ultimately it comes down to usually two main options, carbon steel, and stainless steel.
Carbon steels such as 1095 or 1075 are staples of the bushcraft knife world. The advantages of carbon steel come down to edge retention, easy sharpening and the ability to throw sparks of the spine using flint. Carbon steel does rust easily though and requires vigilance in maintenance. Carbon steel has been and always will be my knife steel of choice.
Stainless steels do not corrode as easily and is tougher than carbon steels. They do however come at a cost of not being as easy to sharpen but have been known to hold a pretty decent edge for longer. They also will not throw sparks with flint which, when it comes to bushcraft is a strike against in most bushcrafter's books.
Blade Length
The length, style and thickness of the blade basically comes down to basic personal preference. Shorter thinner blades are best for smaller and finer tasks while the larger thicker blades excel at chopping and batoning. Anything smaller than 4 inches becomes too small to be very useful and when the blades get longer than about 6 inches they stop being useful at the smaller carving tasks. As far as the profile of the blade goes what we are looking for is a stout tip that will stand up to some abuse. The classic drop point profile or a spear point profile are good options for bushcraft knives.
Blade Grind
The grind of a blade refers to how the blade is bevelled down to the cutting edge, some designs include a smaller secondary bevel at the edge. The Scandinavian grind is the classic bushcraft blade grind with a flat grind or a convex grind being good options as well.
Handle
The handle must feel good and secure in the hand. With so many handle materials out there what we are looking for is any material that feels good to hold, provides grip even when hands are wet or bloody, and is tough enough to withstand the impact of hammering in some improvised tent stakes or cracking open some nuts. The profile of the handle should fit very well in the hand with out feeling any points that dig into the flesh or cause hot spots after prolonged use.
Sheath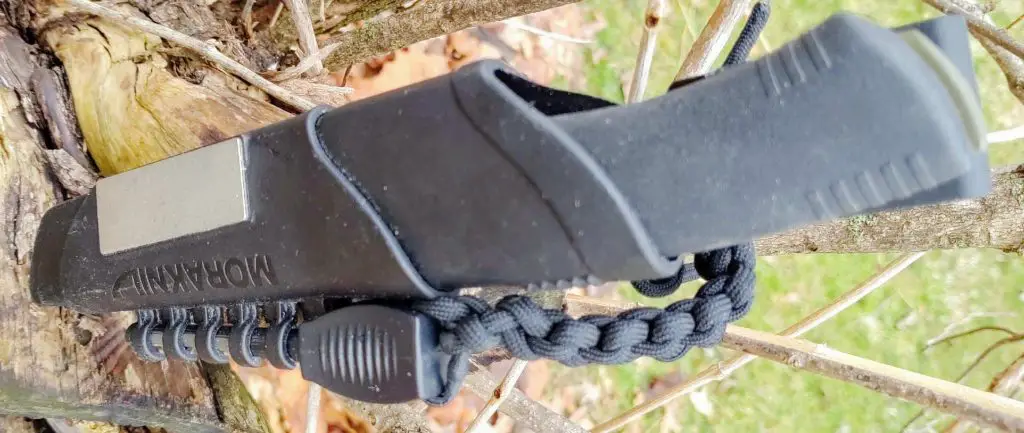 Many knives come with plastic sheaths these days, but some still come with the classic leather sheath. Kydex or any of the other plastic sheaths have the advantage of being easy to clean and often have a greater variety of carry options. They do however a times become brittle in extreme cold and can be cracked of broken by impact. Leather sheaths are durable but usually lack the retention that the plastic sheaths offer. The one major issue with leather sheaths is that a wet knife inserted into one will rust and leather can be more difficult to dry out. As with a lot of the other considerations it ultimately comes down to personal preference.
---
Questions I Get Asked
How to I Care for My Bushcraft Knife?
No matter what steel your knife is made from it should always be cleaned and oiled regularly. Storing any knife in a wet sheath should be avoided and the blades edge should be maintained regularly.
Cleaning of the blade is usually accomplished with just water but a mild detergent can also be used for tougher dirt and grime. For any sap or other hard to remove sticky substances some mineral spirits can be used on the blade to clean it off. Avoid using anything harsh on the handle because different chemicals can react negatively with different handle materials.
What Is The Best Way To Sharpen A Bushcraft Knife?
It is much easier to keep a knife sharp than to allow it to dull and have to re-sharpen it every time.
I have always finished all my knives with a leather strop and that is my primary method for maintaining a keen cutting edge. Touching up the blade on a carbon steel knife is as easy as running it across a fine grit stone, diamond rod, or strop whereas a stainless steel blade can be a little tougher to bring back to a razor edge, requiring a little more pressure and work.
Check out these knife sharpeners as alternatives.
What Should A Bushcraft Knife Be Expected To Do?
A bushcraft knife should be able to cut all the notches that you expect to use in day to day bushcraft, as well as process firewood into kindling and tinder, cut cordage, process game, and even prepare food. These knives are true jack's of all trades and should become an extension of your own body.
If your plan is to have an axe or tomahawk out in the bush with you then your knife need not be stout enough to baton or chop so a Mora would be a good companion to your axe.
---
Verdict
The Becker BK2 Companion is the clear victor in this match up. It is the blade that checks the most boxes and while thick and heavy the BK2 is also just the right size to accomplish a wide variety of both the light and heavy bushcrafting chores. The sheath leaves a lot to be desired but is a pretty minor inconvenience and easily remedied with some custom Kydex.
If you want a knife that has the versatility of a ferro rod and sharpener the Mora Bushcraft is a great option with the Schrade being a good budget bushcraft knife that would be a good option if you needed a little thicker and heavier knife than the Mora Bushcraft offers.
For the beginner or those of us on a tight budget, a Mora Companion will get you out into the bush for the lowest cost while still getting a quality knife that I personally trust wholeheartedly.
Source link